GET ON THE WAITING LIST FOR OUR CASESTUDY
2018 is the year I start stepping away from Facebook for my advertising needs…
For the last quarter of 2017 myself and my team have been experimenting more and more with Pinterest and their organic traffic and paid advertising.
The results shocked us and some of the results we started getting where much cheaper than Facebook on a cost per click basis.
Here is one quick result we got $8.10 in ad costs resulted in just under $500 in product sales from our Amazon seller account.

$8.10 RESULTED IN JUST UNDER $500 !!!
We tested four different accounts.
Here is one that has been running for less than four weeks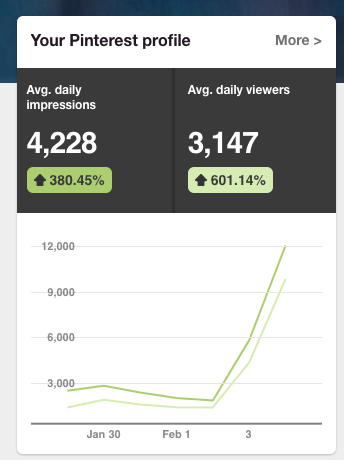 We have some great information to share regarding Pinterest and our case studies. If you haven't already started using in your marketing please make sure you do. We have some case studies coming for both our free and premium Online Success Model members. If you are a paid premium member please watch out for the case studies we will releasing in March 2018.
These will help you do two things:
1. Increase your traffic to your website we are driving over 500 clicks a week organically from just one account we set up three weeks ago.
2. Help you get your brand out there using image and videos (Yes you can use video on Pinterest very effectively)
Don't worry if you are not a premium Online Success Model member we will be releasing a free copy of the guide this will be a watered down version but you will be able to act upon it to start driving traffic from Pinterest. But you must be signed up to our list use the popup window at the top or the one on this post.
Here are two tips for making sure you get the most from Pinterest. Lots more to come in the case study.
1. Make sure you that you set your account as a business account as it gives you more options. Its free and extremely simple to do just look to the profile menu and set it from there.
2. Spend a little on ads on Pinterest even if its just a couple of dollars you then get the ability to add videos
 Claim this free ebook as well
Learn The Secrets For Using Pinterest To Generate Hordes of Viewers To Any Page You Want!
If you're a marketer and you're not on Pinterest, then you're missing out on one of the biggest and the most flexible/powerful platforms out there. Pinterest may not be quite as big as Facebook in terms of pure users but it's actually not as far behind as you might think. What's more, it has a ton of unique features that present excellent opportunities for the savvy marketer.
The main problem that brands seem to have when it comes to Pinterest is that they don't see how they can get it to relate to them. Pinterest is very visual and creative, it's made up of images that people pin to their 'boards' and that others can then comment on or 're-pin'. Thus it clearly lends itself to companies that have an artistic, trendy, stylish or visual side. But how can this possibly be useful for a company that sells life insurance? Or for a blogger who is promoting the 'work online' lifestyle?
And seeing as Facebook and Twitter are so much bigger, does it really matter? Well the first thing you should get out of your head is the idea that Pinterest isn't that big. In fact, Pinterest currently has 100 million users which is really pretty massive – and a subset of the market that you just can't ignore. Also interesting is that 85% of those 100 million users are female.
This is quite unique for any social network and provides you with a great way to reach a female audience – something that a lot of blogs and brands could stand to do a little more effectively. 42% of all adult women in the US use Pinterest which is massive – and actually 13% of males do which is still rather significant.
While Pinterest has a ton of users, it also has the advantage of being a platform that visitors can enjoy without signing up. That means that your potential reach is in fact much larger than you might at first have thought. Pinterest is also one of the fastest growing platforms and is expected to acquire another 47.5 million users in 2015. So you need to be on Pinterest and this is especially true once you realize that there are plenty of ways you can succeed on the platform even if your niche isn't terribly creative or visual.